NVD. Autosport 18/25 Moo 10 Soi Onnut 80 Onnut Rd.Prawet Bangkok Thailand 10250
Tel (66) 023207222-4, 027217985 Fax(662)3207225
NVD Autosport Carbon Fibre Parts Sub-Bumper Garage Testimonial Furniture from Car Idea CONTACT US

NVD Autosport, the specialist in Carbon fibre / Carbon fiber skinning products. We specialize in BMW, BMW Mini , Porsche and Audi Carbon fiber interior and exterior. We also have the service for other cars as well.
Our main products are BMW , BMW Mini, Porsche and Audi carbon fiber skinning interior, carbon fibre skinning exterior. If you have other car models such as Ferrari, Lamborghini, etc., we can do the custom carbon fiber / carbon fibre skinning for your cars too.
For BMW, we have the carbon fiber products for : BMW E36, E36 Coupe, E36 M3 / BMW E46, E46 Coupe, E46 M3 / BMW E90, E91, E92, E93, M3 / BMW F30, F32, F34 GT, F80 M3, F82 M4/ BMW E39, E60, E61, M5 / BMW E63, E64, F12, F13 M6 / BMW Z4 E85, Z4 E86 / BMW Z4 E89 / BMW E82, E88 , 1M / BMW X6 E71, X6 E72
BMW Mini R50, R52, R53, R56, R57, R58, R59, R60 Cooper S, JCW, F55, F56
Porsche 996, Porsche 997, Porsche 991, Porsche Cayman 981, Porsche Boxster 981, Porsche Cayenne 958
Nissan GTR R35 WALD
Audi A5 S5 - B8 2008 - 2015
Amoung our excellent products, we specialize in CARBON FIBRE / CARBON FIBER SKINNING PARTS for cars' interior and exterior parts and side mirror for all BMW, BMW Mini, Porsche, Audi and other cars. These are some of our excellent carbon fiber / carbon fibre skinning products ; carbon fiber door handles, carbon fiber dash trims, carbon fibre gear console, carbon fiber arm rests, carbon fibre M3 / M5 side grilles, carbon fiber SMG, carbon fibre boot lid, carbon fibre door latch, carbon fiber centre console, carbon fibre door trims, carbon fibre rear diffuser, carbon fiber front lip, carbon fibre fuse box lid, carbon fibre door sills, carbon fibre ECU lid, carbon fiber micro filter cover, carbon fiber xenon ballast cover, carbon fibre intake and more.
Beside BMW, BMW Mini, Audi and Porsche products, we also offer a variety of carbon fibre parts for Ferrari355, 360, 360CS, 575M, If you have other car models, you are welcome to send us the parts for doing a custom carbon fiber / carbon fibre skinning / laminating parts. For more details and products please review our carbon fibre section "CARBON FIBRE STYLING , If you don't see the products or the car models that you need, please send us the e-mail, we will get back to you as soon as possible.
We have created the new level of the safety to the Japanese cars across Asia, by creating the "Sub-Bumper force reduction" please click for more detail Sub-Bumper force reduction


N.V.D. Autosport has now creating the home personal life style by making the CARBON FIBRE FURNITURES such as the Carbon fibre table, Carbon fiber chairs, Carbon fibre stool table, Carbon fibre accessories for home decoration. More information please visit : CARBON FIBRE FURNITURE

We offer only the high quality products at the competitive price. We accept the international orders and ship the products worldwide.
For body repair " Narongvit Patthanakhan Garage"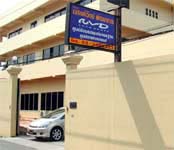 If you have any question, or want to place an order, please contact us nvdautosport@yahoo.com
Or telephone (662) 3207222-4, Fax (662)3207225,Address: 18/25 Moo10 Soi Onnut 80 Onnut Rd. Prawet Bangkok 10250 Thailand
Go to Top
The pictures in the page are the properties of NVD.Autosport. Strictly prohibit for the commercial purposes.